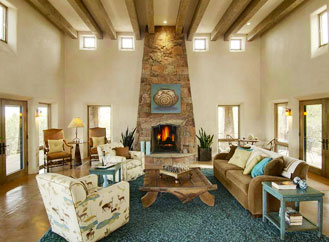 I have worked with Barbara and her firm for many years and on many occasions. Barbara's work has been very important to many of my clients and to me. There is absolutely no doubt that sales would not have taken place without Pinon's involvement in the marketing process. Her staging is well done, client communication is excellent and she is simply a pleasure to work with.
Passion Defines
the Difference Between
Mediocrity & Brilliance

Piñon Property Placement
Santa Fe's premiere source for
Professional Home Staging of homes for sale and
Expert Home Care for your second or part-time home
More about Home Care...
For over 15 years, Barbara and Jeff Butler have combined their expertise in interior design and real estate sales to stage quality homes in Santa Fe, New Mexico. Barbara is a degreed professional with ASID certification. Her vast experience incorporates both residential and commercial design projects and ownership of her own successful design firm.
Working primarily with Santa Fe's top Realtors®, we transform your property for sale by highlighting the home's best features and maximizing its appeal to Buyers. Our professionally staged homes, presented in an array of styles, are attractive and inviting both inside and out. We make it easy for potential buyers to envision living there.
Professional staging by Piñon Property Placement gives your home a competitive edge in the marketplace. We know how to make homes flow, how to expertly define spaces, and how to perfect the lighting. Our Home Staging services consistently bring exceptional results, showcasing properties in their best light. Please be sure to read
Testimonials
from our satisfied clients and Santa Fe's top Realtors®.
Why Stage Your Home
A professionally staged home usually sells 50 percent faster than a non-staged home, leading to a 50 percent savings in costs.
A professionally staged home brings a higher selling price.
Professionally staged homes create satisfied buyers, who are less likely to cancel deals. And More...